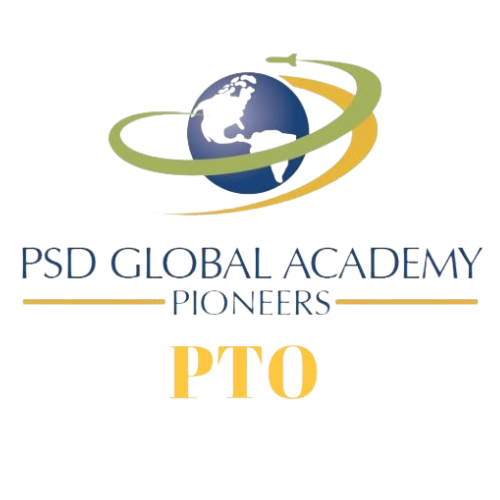 Contact PTO: PSDPGAPTO@gmail.com
The purpose of the PGA Parent Teacher Organization (PTO) is to help our school attain necessary funds to enhance the educational and social experiences of our PGA community through:
· Serving the interests of the students at PGA
· Promoting a sense of community among students, parents, and staff
· Supporting and encouraging parental involvement and volunteerism
· Fostering an atmosphere of cooperation and open communication between itself and all members of the PGA community
· Disbursing funds to support the school and students
Any parent, guardian, or school employee can be a member and shall have voting rights. We encourage you to attend meetings, share your thoughts, and help make decisions regarding the opportunities PTO provides. 
Your PTO funds a wide range of activities for the PGA community:
· Graduation scholarships: over $2,500 in scholarships awarded
· Community-building programs at every grade level: Fall Festival, Learning Coach Academy, and Teacher Appreciation Week
· Improvement projects: Community Garden & Outdoor Learning Center, water hydration systems, and building security
· Educational support tools: carefully selected to support your student's education both at the classroom and building-wide level
2023-24 PTO Meeting Schedule:

· September 19th, 2023

· October 17th, 2023

· November 28th, 2023

· January 23rd, 2024

· February 20th, 2024

· March 26th, 2024

· April 16th, 2024

· May 21st, 2024

2023-24 PTO Officers:

· President: Elizabeth Downing (Acting Secretary)

· Vice President: Tina Peters (Acting Treasurer)

· Teacher Rep: Valerie Cox

· Treasurer: Available

· Secretary: Available

 

All meetings are from 3:45-4:45pm and will be held both in-person and via Microsoft Teams

Childcare is provided free of charge

Meeting agendas will be posted to the PGA Learning Coaches Facebook Page
Passive Fundraising Opportunities:
Click on the images below to learn about passive fundraising opportunities that support PGA.